Guide to use Buzzsumo – a tool to support content for the website
In the article on the importance of investing in Content, I have outlined the evidence for you to understand that, if you want to survive and thrive in the current online marketing trend, you must invest in internal. Right.
It's not an ordinary investment, but you have to invest as much as you can. And this is a non-stop race.
Most people often don't have powerful strengths or experience in content marketing. Want to be good at something; you also need to go through practice to get more experience.
More specifically, in the digital marketing world, Data (real statistical data) is like a precious gold mine because it helps you to have a much better strategy.
Today I will guide you to use a tool to help you no matter what topic you do, and you will definitely get a lot of "experienced" observations with core content development. Core in your subject.
And luckily, it doesn't require you to have any research, analytical or statistical skills, because this tool does all the work for you.
You will be able to produce a lot of "delicious" content for your blog, website, and more, you will be able to analyze topics accurately, what types of content are highly effective. , in which fields there are specialists you should follow or contact for cooperation.
This tool is called Buzzsumo.
Along with the marketing mindset of each person, I believe, this will be a great right hand to help you win the game called "Content Marketing."
We begin to explore the features of Buzzsumo through the introductory video and detailed instructions below. Or you can read through the tutorial with the screenshot below!
Get familiar with the Buzzsumo interface.
Before going into detail about each feature, you should check out the general interface of this tool. This is a tool that uses entirely online on the web.
You need to login to the homepage Buzzsumo.com, where you sign up for an account using Free Trial (free trial), if you do not use much, you can just stop at this free version is enough. But it will limit searches per day (I remember correctly it is 3), and add limits on advanced data analysis and data export.
If you want to try buzzsumo paid version for $ 4.95 / month.
You can subscribe here: buzzsumo group buy
The way to register is very easy. I do not instruct more. After successful registration, you can access and see Buzzsumo interface as follows: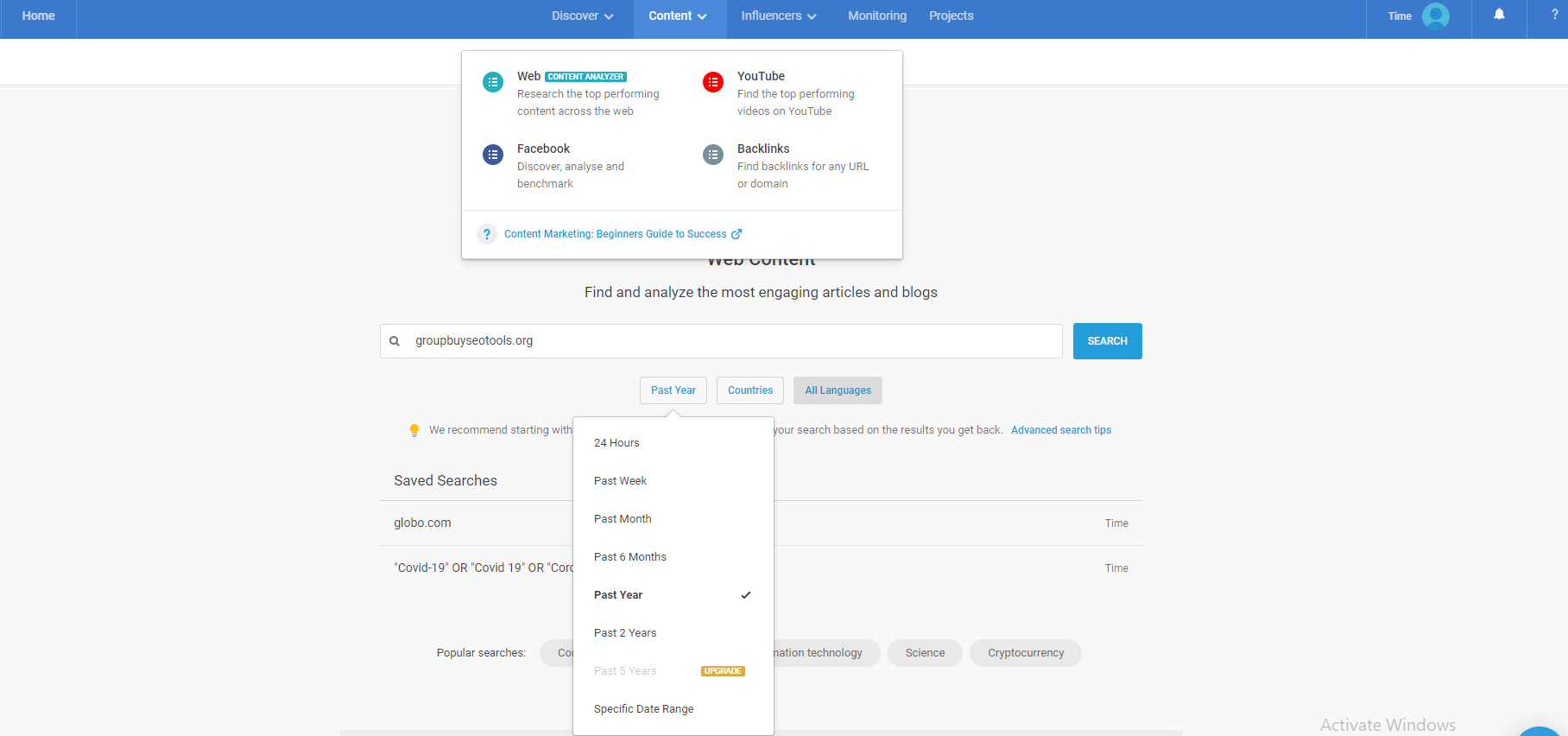 I marked on the picture the main features tabs that Buzzsumo will provide.
Specifically, the sections are as follows:
Content Research: On this tab, Buzzsumo offers a lot of features so you can do almost anything with content research exactly on your field.
Influencers: The Influencers tab allows you to find out and filter out influencers in your niche, which are Bloggers, Experts, Journalists, Influencers, … that you can follow, or you do SEO. In a pure Whitehat perspective, special attention should be paid to this section to find Outreach objects that build backlinks.
Monitoring: If you have ever known through the Google Alerts tool, this feature is similar, but there are even better ones, you will love it, I will introduce it later with how to apply for you luôn
Ok, so this tool overview you have grasped, I started to go into how to use each feature one by one.
Explore an endless store of content with Content Research
For those who make money with any form that you have to build a website, content is something that people must care about.
Having a content plan for a brand new website or having to always prepare content for long-term development for the site is a fear of many people.
Many web developers have been running out of ideas for a few days, not knowing what to do next. (Don't even know what to write first).
And I confidently affirm that the Content Research tab with five small internal features that Buzzsumo equips will help you feel excited about the daily content production game, without fear of employment. More content.
We will start to detail each feature with illustrative examples.
Content Analyzer
With content analyzer, you need to enter a main keyword or topic of the website you are trying to perform, and buzz sumo will give you an endless repository of content for you to analyze, review and select to create content. Own.
For example, you enter the keyword "travel Da Nang," then use the filter on the left to filter by time, here I want to screen for the past one year, the content "has a lot of interest. What is the most mindful "of this keyword, and from which websites with how much engagement?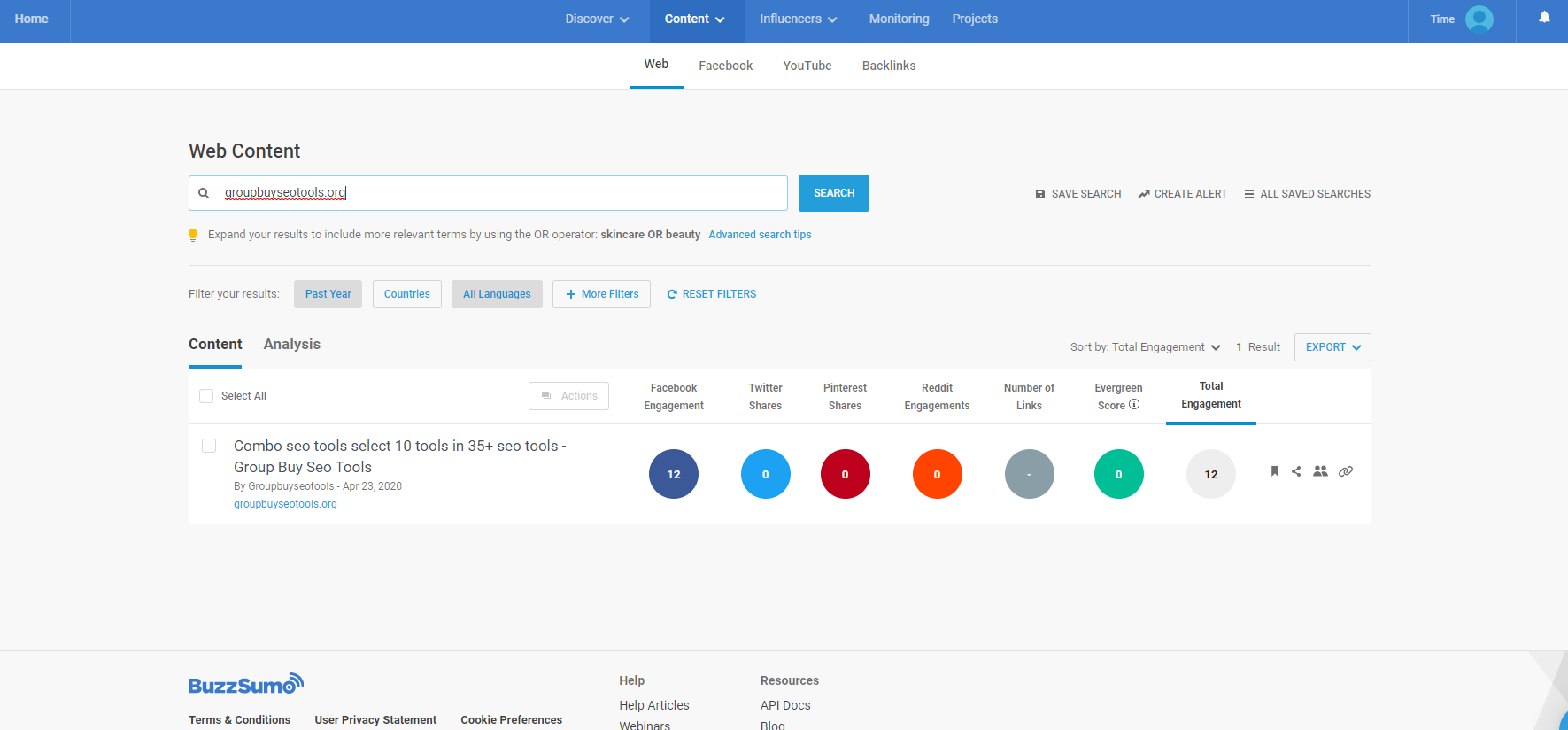 Watching a lot of the results, you will start to be interested in too much good content, along with the social interaction indicators that buzz sumo provides you. I check the results and feel that the following topic is what I need to research the content.
If you are a blogger who wants to do content about Da Nang travel experience, want to share tips to travel in this location is fun, discover enough places in the right budget. But you do not know if your ideas are complete yet, are there any shortcomings. Then this is a super useful result for your reference.
Next, you watch for yourself next to the Search tab earlier, is the Analysis tab, in this feature Buzzsumo will give you very detailed statistical results of data about this keyword in the content warehouse available on the internet.
Facebook Analyzer
Next we come to the facebook analyzer feature, here you can explore with the tourism keyword Da Nang, on the second largest social network today what content is around this topic and are interacting. study, as well as refer to the beauty of these contents.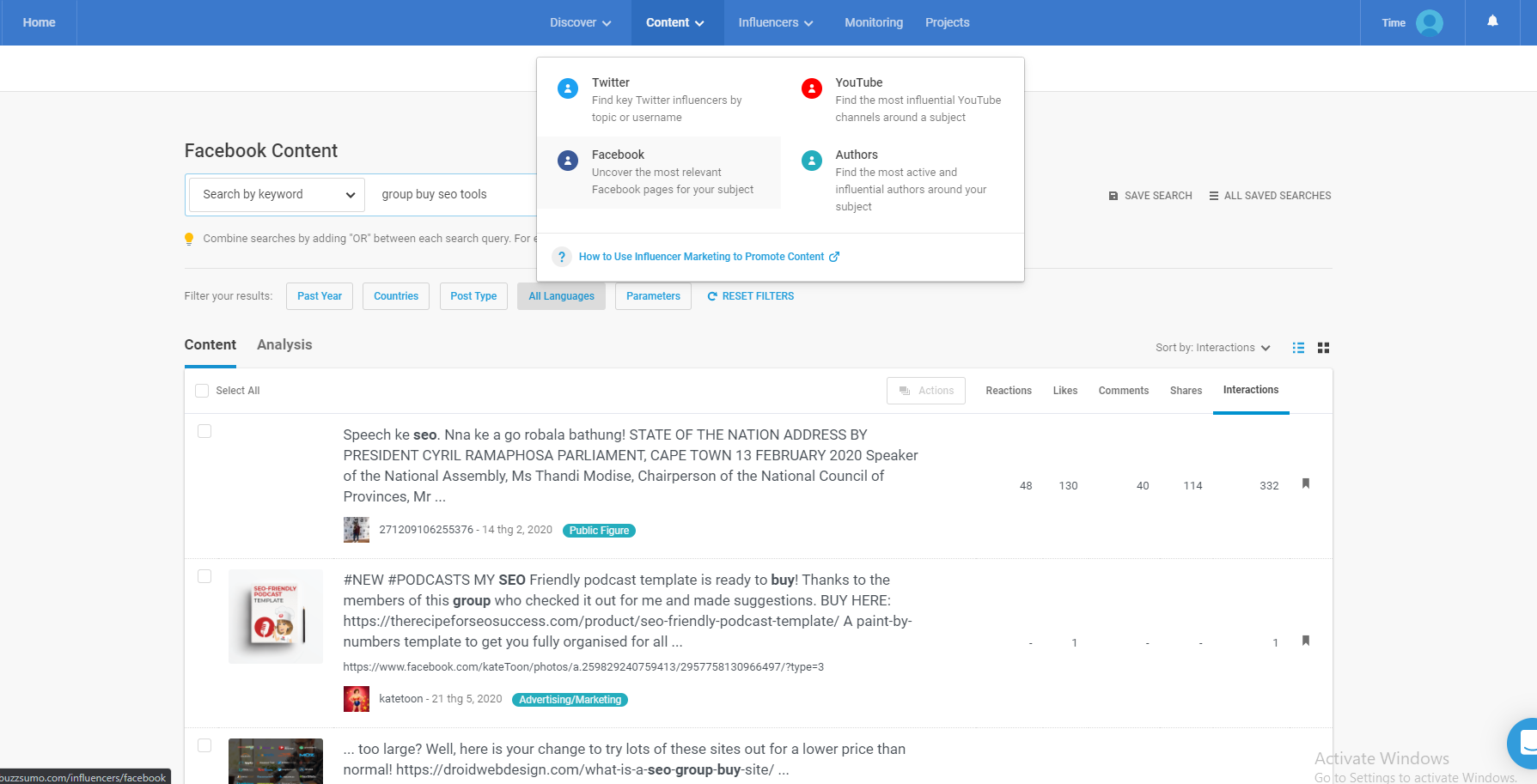 Results Buzzsumo returns results of existing posts on Facebook that have a large amount of interest on this keyword for your reference.
So you are free to choose the content for your fan page already.
Moving on, we come to the My Feeds feature.
With My Feed, you can add a fan page of specific competitors you want to analyze, see if they have useful, interactive posts on the keyword "Group buy seo tools." You select Add pages to track.
For example, I want to analyze the content of Danang tourism on the viva page. I will take the ID of this page to add. Note that the page id is the part behind facebook.com/.
And add the correct Aviv U id here then click Done.
Buzzsumo will return all matches coming from the Aviva page. You can filter the results by filters of likes, comments, or share…
Question Analyzer
Content is specific questions, also long keywords that often bring a very potential traffic volume for selling or driving traffic to your website. Therefore, buzz sumo has equipped the ability to analyze keyword related content in the form of questions for you to develop this type of content quickly.
With the Da Nang travel keyword, buzz sumo returns the following topics related to a lot of questions people often search for about this topic.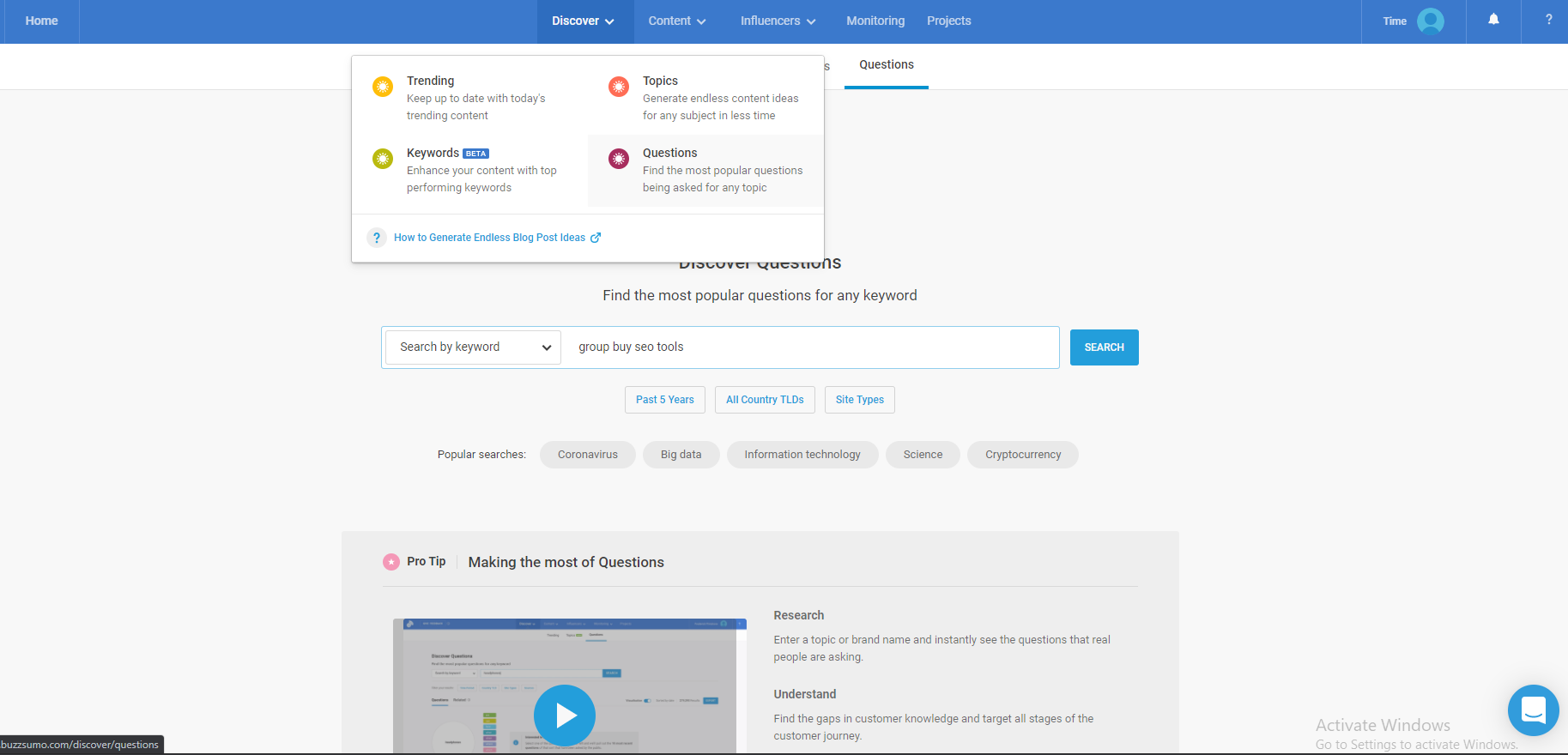 Looking at these results, it is not difficult for content creators like you to make a list of questions about questions when adding to your website content.
Trending Now
There is an indisputable fact that in marketing, trending is a phenomenon and also a very powerful tool for marketers, particularly content creators like us. Catch trends and immediately apply your content campaigns.
You use this tool to detect and early broadcast what content is trending, viral on the internet during the time you filter.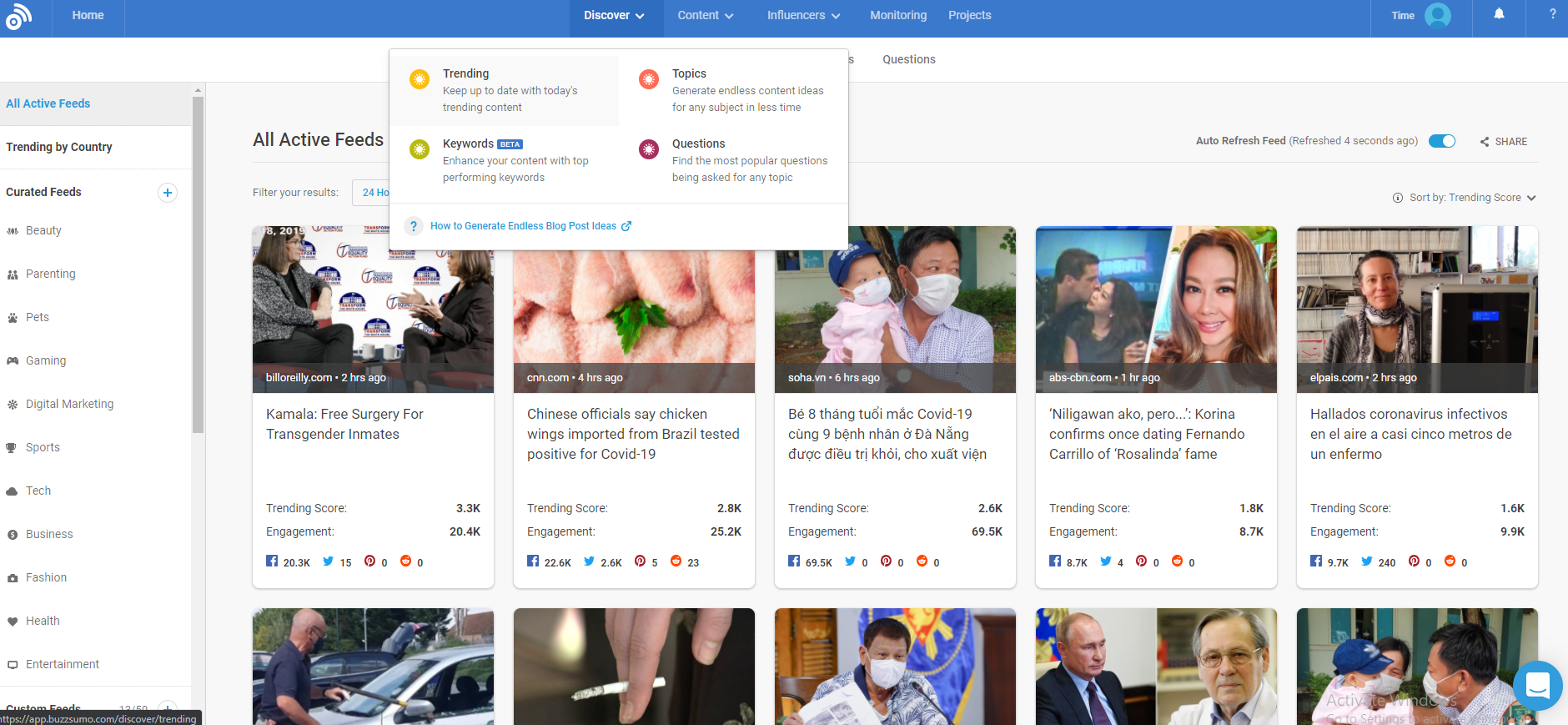 Backlinks
Next up is the ultimate tool in Buzzsumo's Content Research tab.
This tool is especially useful and will be used more by those who specialize in SEO.
You will be able to analyze which competitor website you are researching, which sites they have backlinks from, and which articles to link to so that you can deploy your SEO tactics for your website.
You just need to add the domain of the website you want to analyze here and click search. There will be thousands of results for the research.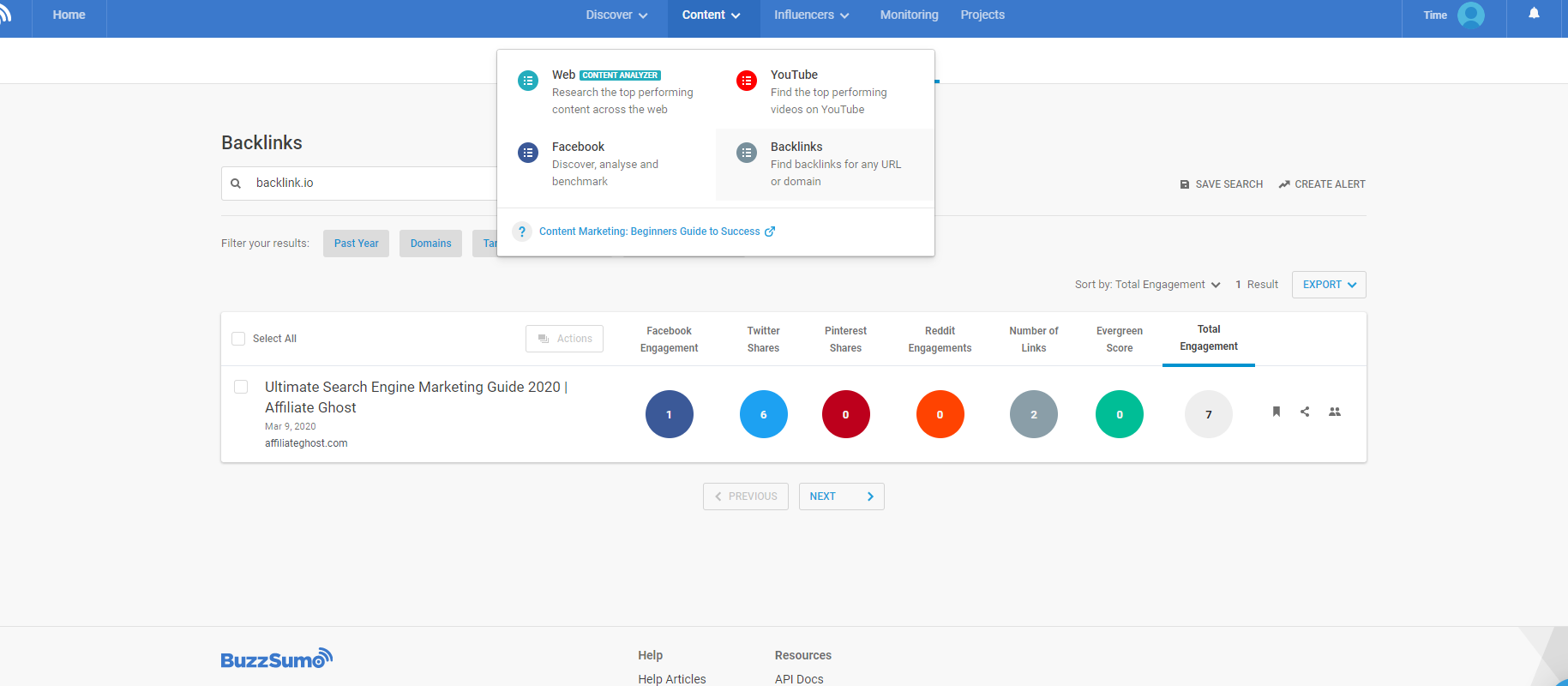 Find influencers in the niche that are doing.
This form is not accessible in the Vietnamese market, and Buzzsumo is currently only deploying results for foreign content.
This is a feature that helps you find influencers in your niche. You can then connect with them, find out what their content is of great interest from the internet user community in that area.
From here, you can apply the white hat SEO methods that are very popular in the world to outreach (reach) them for SEO & traffic purposes. Or simply follow them to see what they are doing, how they develop the content.
For example, I want to find influencers in the weight loss niche, type the keyword "group buy seo tools" and search.

The results will return you their Twitter account addresses, because they use Twitter for foreigners. You can reach them or click on View Links Shared to see what their content is shared by others (Retweet) and most interacting.
This feature to apply well is another piece of knowledge, so I will not mention much here.
Don't miss any content updates with Monitoring.
This is the last feature I want to introduce of Buzzsumo, how it works like Google Alerts so.
Click Create Alert: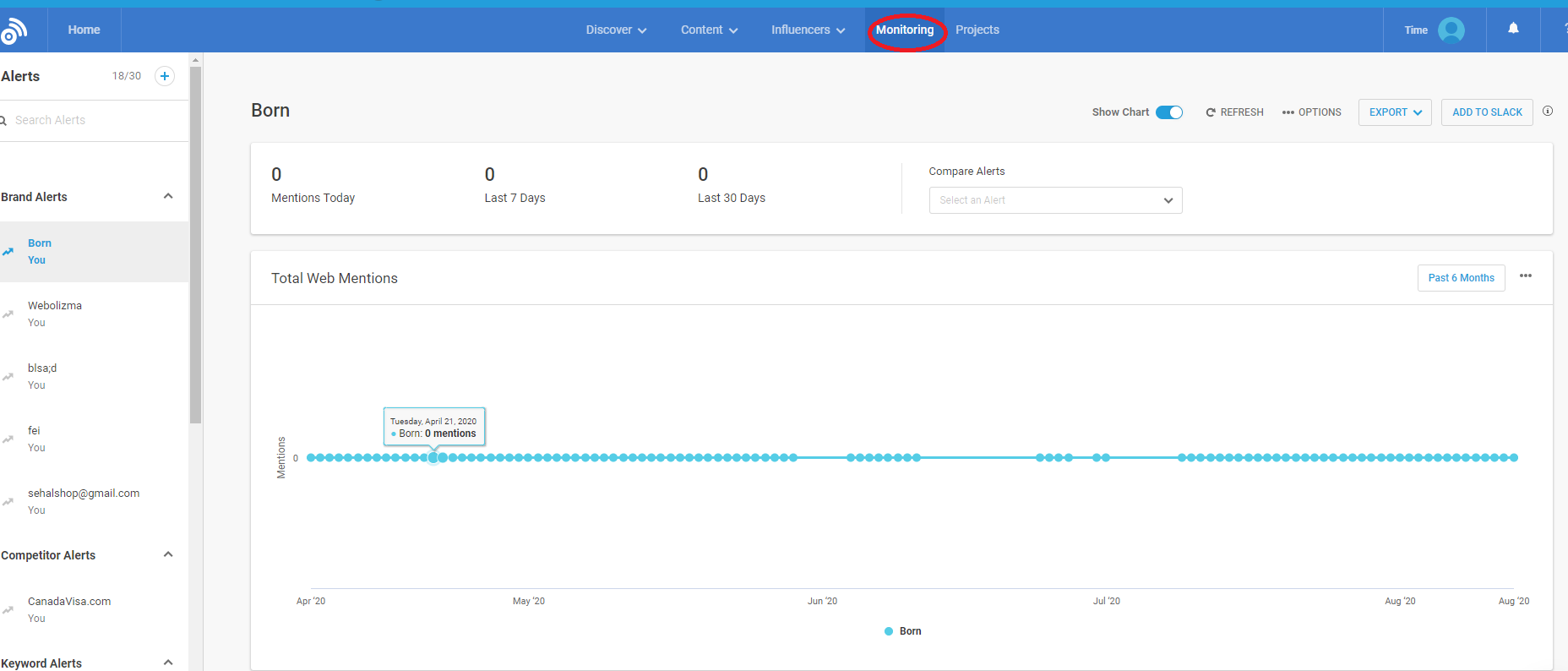 Buzzsumo allows you to create Alert on the following content
Brand Mentions: get notified when anyone mentions your brand.
Competitors Mentions: Get notified when anyone mentions your competition.
Content From a Website: receive notifications when there are new content from a certain website.
Keyword Mentions: get notified when someone mentions the keyword you're following.
Backlinks: receive notification when new backlinks point to your website.
An Author: receive notifications when there are new updates from an author you are interested in.
Your turn.
You can visualize and understand what you can do with this Content # 1 tool. Buzzsumo is not random but is trusted and recommended by almost 100% of the online marketers in the world.
And it doesn't have an introductory program either, because of all the content research analyst tools, Buzzsumo doesn't seem to have a rival. I recommend you because it is too good, if not introduced, it is not possible.
I hope this article will help you a lot in using the tool properly and, more specifically, improving your knowledge and effectiveness of the Content Marketing strategy you are doing.
The above introductory and demo tutorials above are just necessary, but through that, if you want to be successful in Digital Marketing in general and Content Marketing in particular, try to think and apply each feature, each task. Tool in your way to most of the power of this powerful content assistant.
Investing in content is a wise investment, I wish you always do good Online Marketing, I will also write a lot about the instructions, knowledge, introduction of content marketing support tools to help you work efficiently. Easier.
If you are interested in group buy seo tools service. You can join us for as little as $ 4.95 / month for one.
Groupbuyseotools shares many of the most valuable, reputable and stable seo tools in the world today.